Talking cat Tom at the doctor game
Follow us on Facebook and Youtube: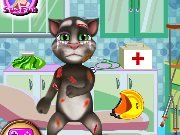 Description: Talking cat Tom at the doctor
Cheerful and beautiful cat Tom rode a bicycle and fell. Hurt him and he has a few scratches. He needed urgently to the hospital! Let's find a better vet and treat Tom.
How to play: In this game you are speaking with a cat, see a doctor. It will help the cat to get rid of the pain, heal wounds. Also it can check whether the patient hand fracture. You will only need the mouse to cure cat. Use the tips on the top right to do anything to the cat that became happy and healthy.
After that, you can help the cat collect new bike after repairs. Use the mouse. Carry details of the bike in the center of the screen to pick a new one.