Angela Baby Birth game
Follow us on Facebook and Youtube: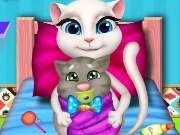 Description: Angela Baby Birth
After a few hours the cat Angela will become a mother and she is very concerned about it. Reassure the cat and help her to collect things that can be found in different parts of the room. Then go to the doctor so the doctor examined the mother. Help the doctor to examine her and to be born beautiful kitten.
How to play:
this is happiness, when a child. So let's help the cat and her child feel comfortable in this important and long-awaited day! Use the mouse and hints to collect all the things in the bag, and then start preparing for the birth of a kitten.