Talking Angela Bathroom Renovation game
Follow us on Facebook and Youtube: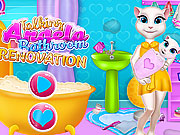 Description: Talking Angela Bathroom Renovation
And this is the game My talking Angela. Today, we will be able to help cute kitty to clean the bathroom. Angela would be able to do it herself, but she is now very busy with her little cat, which she had recently. First, look at the room itself. It is very beautiful here, but a lot of garbage. You have to sort the garbage in three baskets and this you incredibly much help beautiful cat Angela. You will be able to make small repairs in the house, throw the garbage in the trash and wash the bathroom floor. It will be a great transformation in a dirty room in new!