Wedding cake design game
Follow us on Facebook and Youtube: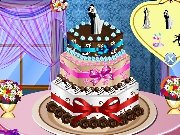 Description: Wedding cake design
What a wedding is complete without a huge, colorful and delicious cake? You as a cake designer have to not know it! And here you have another order of the cake for a wedding where there will be a lot of guests. Turn to your wedding cake design in this game and decorate it the way you consider the best. Make your guest happy by your talent.
How to play:
think up a wedding cake design. First choose the shape of each level of the cake. Then choose the color, decorations and ribbons. Now we need to think about what you put on the very top. Of course these are the bride's and the groom's figurines.
Played: 43182. Added: 11-06-2012, 13:40.. Categories:
Decorating