Decorate your jeans game
Follow us on Facebook and Youtube: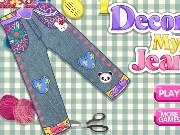 Description: Decorate your jeans
Today, on the labor lesson you will decorate your jeans. This is a very good experience. Now you can learn how to change the appearance of the old and a bit boring jeans. So you can choose stickers, pick up the strip along the legs, choose a nice belt and make beautiful pockets. You won't recognize your jeans after all these decorations. Your friends will ask you to make them the same. And of course, you will help them. Will you?
Control of the game is quite simple and you need is just the mouse.