Ariel Missing Eric game
Follow us on Facebook and Youtube: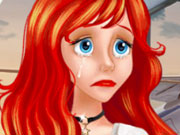 Description: Ariel Missing Eric
Princess Ariel and Eric are now in the spotlight as they are temporarily away from each other. And all because Eric flew to another country in order to get an education. For Eric, this is a great opportunity to learn new skills and become a great specialist. But Ariel and Eric are very worried that they are now far from each other, and therefore this makes them a little upset. Fortunately, this is not for long and Eric will be back soon. Therefore, this does not greatly sadden him. What can not be said about Ariel. She is very sad and her best friends Cinderella and Rapunzel come to her aid. These cheerful friends came up with a whole entertainment program for the red-haired princess. They will do everything to make Ariel feel better and Eric's departure is not so sad for her. They will choose hairstyles, do funny makeup, pick up new cool dresses. Then they will go shopping and go dancing. As you can see, it will be fun and even like a holiday. Have fun with the princesses and help Ariel be less sad about Eric at the time of his departure.