Anna Hawaii Vacation game
Follow us on Facebook and Youtube: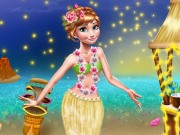 Description: Anna Hawaii Vacation
Anna heard that Hawaii is fantastic this time of year and she decided to pack her bags and go visit it. She just arrived and decided that she must see the amazing beaches and the ocean. Let us help Anna find the perfect outfit for her first day in Hawaii. She can try some traditional Hawaii costumes or some modern bathing suits. Either way she will look beautiful. Do not forget the accessories. Aloha!