Princess Ariel in a clothing store game
Follow us on Facebook and Youtube: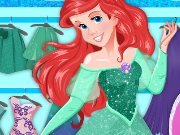 Description: Princess Ariel in a clothing store
Princess Ariel preparing for prom and she urgently need to buy a prom dress. All the girls will be in the new dresses, shoes and make a festive hairstyle. Therefore, our princess with red hair do the same and invites you to visit her big clothing store. It turned out that in this shop there is the beautiful jewelry and even jewelry. Princess Ariel is very happy about it, and that it can help you create a gorgeous outfit for the prom.
How to play:
in this dress up with Princess Ariel, you'll be able to choose her dress, hair and jewelry to our graduate feel like a princess. Visit the different sections to store the princess made her choice. Carry on all the beauty that it sees fit, and it can do the same.