Mahjong Fruit Connect game
Follow us on Facebook and Youtube: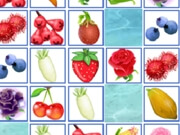 Description: Mahjong Fruit Connect
Another fruit-themed mahjong game. Images of fruits are used as images on the tiles. This adds a special interest to the game. You've probably played this type of game. Your task is to find pictures with the same images and remove them from the field. To do this, you can use both your mouse and your finger. And all because the game has already been adapted for mobile devices.
How to play:
is a logic game in the mahjong genre. You must remove all cards from the field. Use your mouse or finger to select the tiles that you want to remove from the field. The main condition is that they must be connected by a line in which there are no more than two corners. This is a great game for developing attention and concentration. Over time, you will notice that you have become much better at focusing on boring tasks. Thus, thanks to the game, you can quickly achieve good results in training or work.