Face Paint Party! Girls Salon game
Follow us on Facebook and Youtube: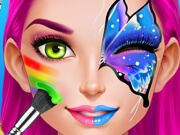 Description: Face Paint Party! Girls Salon
You've probably noticed how popular face painting services for parties and holidays are today. Let's try to find out together how cool it is to draw all sorts of beautiful drawings and patterns on the island for clients of a beauty salon. Today there are a lot of customers here and everyone is rushing to the local party. The peculiarity of which is that all guests must come with drawings on their faces. Every girl wants her to have the best and most beautiful drawing, as well as to distinguish herself favorably among the guests.
How to play
: In this game, you will be a beauty salon master to create face art. Today you have 4 clients at once. Sit them in a chair, find out what drawing they want, and get started. First, you need to do your face skin. Clean it, apply nourishing creams, and then start painting. There are hints in the game, so don't worry, you will succeed!