Christmas Cake game
Follow us on Facebook and Youtube: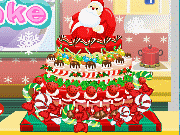 Description: Christmas Cake
Christmas is coming soon and Santa Claus will be giving gifts to children. What if we give a gift for him? Make up and decorate a cake for a good Claus, who will drink tea tired after the trip, and feast your beautiful cake.
To decorate the cake in the game, you need only mouse. Click on the Next and Back buttons to navigate between sections and choose decorations for the cake.