Room in the attic game
Follow us on Facebook and Youtube: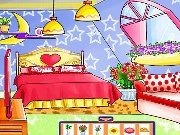 Description: Room in the attic
Do you think that you could perform any task, and you can decorate any room? How about a room in the attic? First choose the shape and type of the window. Then choose the wallpaper on the walls and the kind of the floor. We can now proceed to the sofa and a bed. Put the flowers and pick a big TV.
How to play:
create your own piece of paradise where you can invite friends and have fun there with them. In this is fun decorating game "Room in the attic" you will have a large window and all the furniture just as you want. Push buttons on the panel on the bottom so that you are able to choose the furniture according to your taste.
Played: 45054. Added: 22-04-2012, 16:46.. Categories:
Decorating