Princesses Florists game
Follow us on Facebook and Youtube: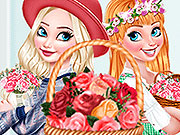 Description: Princesses Florists
The beautiful sisters Elsa and Anna have always loved flowers and give people happiness. Therefore, they decided to combine all this and create a flower shop. In this store, you can buy a lot of beautiful and fresh flowers. But the highlight of the store is that here you can order the preparation of a bouquet for various occasions. It can be a wedding, a holiday or a romantic date. Let's help the sisters on their first day. Choose outfits for Elsa and Anna, and then help create three types of bouquet design for each of the girls.