Disney Planning Diaries game
Follow us on Facebook and Youtube: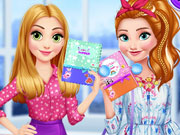 Description: Disney Planning Diaries
The princesses Disney Rapunzel and Anna have so much to do and they don't want to forget about any of them. In this game, you will learn what cool diaries they use to remember the important things they have planned for the near future. You can choose the design of the diary for the princesses, as well as pick up new dresses and hairstyles for the new working day, which is very eventful for girls. But this does not mean that they are doing that they only work. Our beloved princesses have a fun rest after work. After all, they manage to do a lot of important things for themselves thanks to such cool notebooks with a list of necessary and important things.