Monster the cookie game
Follow us on Facebook and Youtube: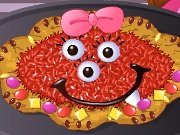 Description: Monster the cookie
Do you love cookies decorated with chocolate, candies and jelly? How about to make up your own? In this game you can make any, and put into it a lot of candy, nuts, chocolate and other delicious things. But the main thing you need to do is to put the monster face in the center of the cookie .
How to play "Monster the cookie" decorating game:
make up how the cookies will look like after the decoration with candy, and with the monster face in the center. Your friends and family just love it! Make up two variants of cookies. Evil and good.
Click with the mouse on the circles to change something in the picture. At the top of the screen there are three circles with the picture of the girl. Click on them to change the girl in the game.
Played: 42930. Added: 19-04-2012, 18:28.. Categories:
Decorating