Princess Anna arm surgery game
Follow us on Facebook and Youtube: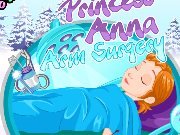 Description: Princess Anna arm surgery
Princess Anna playing in the snow and fell. Looks like she hurt her hand. What a pity! Let's take her to the doctor and see what he can do. To start take x-rays of the hand to understand whether there is a bone fracture. If the fractures are, then you need to do the surgery. Use special medical tools to cure the Princess Royal and she was able again to play in the snow.
How to play:
in this game you will be able to do the surgery on his arm to the Princess Anne. After surgery be sure to select her a new hairstyle and dress. The girl will love it!