Patchwork dress for Elsa game
Follow us on Facebook and Youtube: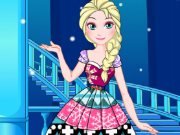 Description: Patchwork dress for Elsa
Elsa loves to sew dresses and knows a lot about fashion. This season is very fashionable dresses from the scraps. If you pick the perfect material, style and color, it will a great outfit. Elsa is well versed in the selection of all this and just be able to handle it. Then we will be able to select the girl beautiful hairstyle and jewelry for created dresses.
How to play:
in this game you will be able to create the most beautiful patchwork dress for Princess Frozen Elsa. To begin, select style, and then color patches. This should be a gorgeous dress. Especially because Elsa is difficult to find a dress that would not go to her. Click "Next" to proceed to the next stages of the game, and then click "Show" to see the result of your choice of dress and hairstyle for Elsa.