Bella Hospital Recovery game
Follow us on Facebook and Youtube: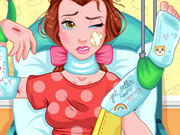 Description: Bella Hospital Recovery
This day began very well and promised to be full of pleasant moments and meetings. She went to the store and made some interesting purchases and decided to go to another store. But while sending the SMS message to the prince, Princess Bella stumbled and fell. Now she urgently needs to go to the hospital. Now Princess Bell is in the hospital and in this game you can become a doctor for our sweet girl. To begin, examine the patient and clean the wounds. Then remove the glass fragments from the wounds. Use cotton and alcohol to clean the wounds, and then apply a bandage. Next, you need to do an inspection of the bones and make an x-ray. So you will know all is well with our beautiful. Using the mouse, you can quickly heal bone fractures, and then you can put in plaster to get the princess to get better soon.