Mermaid's Ariel Hairstyle game
Follow us on Facebook and Youtube: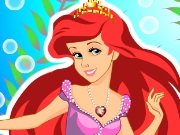 Description: Mermaid's Ariel Hairstyle
Mermaid Ariel has a beautiful voice and hairstyle. She has so many adventures and so much work to do that she has no time for her hair. Help her to freshen up? Princess will prompt you what to do and you will easily cope with this problem. Look for items that appear one after the other on the left of the mermaid, and apply them according to their functions using the mouse.