Hairstyle wonders game
Follow us on Facebook and Youtube: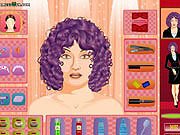 Description: Hairstyle wonders
In this nice game for girls you can feel yourself like true master of style. Nothing ruins your mood worse than bad days for your hair. It's time to say goodbye to them and make a beautiful hairdo. You can use all the professional tools and hair care products. You must make a professional haircut and styling to get the best points.
How to play the game "Hairstyle wonders"
On the right there is a picture of hair, which client wants to have. Do everything that client asks and you will get maximum points and satisfied customers. Play with your mouse. Click on tools and accessories to use them. There is a book with tips, if something goes wrong.
Enjoy the game!
Played: 54558. Added: 5-09-2012, 16:57.. Categories:
Hairdresser