Cooking School: Strawberry Cheesecake game
Follow us on Facebook and Youtube: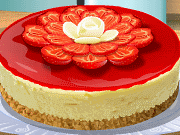 Description: Cooking School: Strawberry Cheesecake
On this wonderful day, Sarah teaches her students to cook strawberry cheesecake. No one is going to miss this lesson! After all, what a yummy is this cake
Arm yourself with the mouse and follow the instructions of the teacher. Repeat everything exactly and you get maximum points among all the students of the cooking school! In addition, after you learn a recipe, you can offer your mom to do the same at home on your kitchen!