Do a make-up game
Follow us on Facebook and Youtube: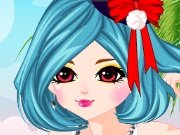 Description: Do a make-up
Look what a cute girl is here! You can't take your eyes off! It is a pleasure to work and come up with a new make-up and change a hairstyle with this model. In this game we will do it all.
How to play: Click on the square buttons to navigate to a new section and change the make-up. You can click Next and select the next step to try a dress on and choose a hairstyle for the beauty.
Played: 55602. Added: 6-12-2012, 23:50.. Categories:
Make up