From Messy to Classy: Princess Makeover game
Follow us on Facebook and Youtube: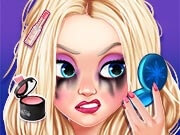 Description: From Messy to Classy: Princess Makeover
Oh no! Princess Elsa was walking in the park and enjoying nature as the rain began to fall. She did not have an umbrella with her and now the girl was very wet. Now she looks dirty and unkempt. Help her tidy up her hair and make up her daily routine. Blow dry your hair first, then comb and braid your hair. Next, it's time to do Elsa's makeup. Cleanse your skin, apply regenerating masks, in general, do everything to make your skin clean and healthy looking. Then you can apply light makeup and move on to choosing outfits. After all, the day is not over yet and Elsa wants to go to the Sunday party with her friends again.