Beach pedicure game
Follow us on Facebook and Youtube: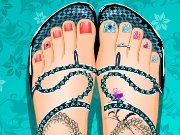 Description: Beach pedicure
Imagine that you are the owner of the nail salon on the beach. A lot of girls that want to make pedicure, choose foot jewelry to pick the beach sandals. It is not an easy task for unprepared girls, but you are a professional in a pedicure. Is not you?
How to play:
In this game you'll be a professional in the nail salon and you will make beach pedicure for clients. Choose a jar of paint with the brush, and then click on the options of the pattern below. Now we have to select the finger you want to paint with the brush. When you finish your work with lacquer, then click on the buttons below and select sandals, tattoos, and jewelry for the feet.
If you like such
nails make up games for girls
, then click link and play other cool games at our site.
Played: 38880. Added: 1-07-2012, 15:38.. Categories:
Nails make up