Stylish manicure game
Follow us on Facebook and Youtube: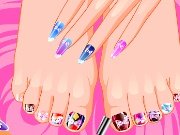 Description: Stylish manicure
Think up a new manicure for summer outside activities. This day the sun will shine bright, and there will be a nice breeze.
How to play:
Look at the shelf and click with the mouse to select three types of nail polish, cleaner, choose the form of nails on the hands and feet. Find a cool tattoo and decorate her feet. On the second shelf, you can choose color, decorations for nails on hands and feet.
If you want to erase the paint, then use the jar and cotton wool on the top shelf.
Played: 44640. Added: 21-05-2012, 02:49.. Categories:
Nails make up