New manicure game
Follow us on Facebook and Youtube: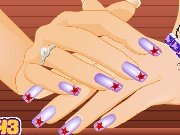 Description: New manicure
This spa salon knows how to make your hands beautiful. The beauty of hands depends not only on the cleanness of arms. Here you can add a ring, small tattoos, bracelets and of course the beautiful picture for your nails.
How to play:
click on the green arrow to the left and to the right to change the partitions. In every part you can click on the circles and change something in your client's manicure. Try to pick a couple of options for the hands jewels for work, home and parties.
Played: 44856. Added: 25-05-2012, 17:35.. Categories:
Nails make up