Hand decoration game
Follow us on Facebook and Youtube: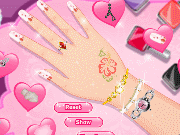 Description: Hand decoration
Selection of nail polish in your hands can be a very fun and exciting pastime. It is very good if you have a lot of bracelets, a large selection of nail polish and you know how to create cool designs on your nails. But what if you add a tattoo on your hand? Let's see how you are able to choose a nail polish for your nails in this game.
How to play: Click with the mouse on the buttons in the form of hearts to make the girl's hand even more beautiful than it is.