Manicure game
Follow us on Facebook and Youtube: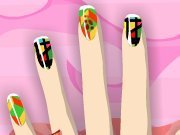 Description: Manicure
Three friends Lee, Leela, and Leah decided that it's time to replace them manicures, but unfortunately none of the girls do not know how to do it. Leela wants to help you in choosing of makeup and the manicure for girls in the game.You can choose different colors, palettes, nail polish color and even jewelry in this game. You can play this game forever!
How to play the "Manicure":
After the game start push Play and start playing. Choose one of the three girls and start to choose their style. In the game you can just paint nails one color, and you can use the entire pattern or to add beautiful drawings on the nails and choose jewelry.
Played: 49320. Added: 19-05-2010, 16:40.. Categories:
Nails make up