Three girls on ski resort game
Follow us on Facebook and Youtube: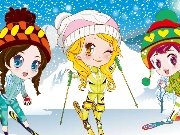 Description: Three girls on ski resort
When the weather is fine you want to take your friends and have a vacation with them! And if the snow in the street, then of course they will spend their holiday at the ski resort!
Three girls Emma, Yoyo and Nina were ready to go for a ride, but they forgot about clothes! Choose costumes, hats, skis, and skiing glasses to make them think only abouttheir rest and enjoy the excellent skiing!
How to play:
dress up the girls one by one. Click on their picture at the top right.Choose a stylish outfit for each of them. As you finish, then click Show to see how the girlswill look together.
Played: 47547. Added: 11-02-2012, 05:21.. Categories:
Dolls