Doll the ballet dancer game
Follow us on Facebook and Youtube: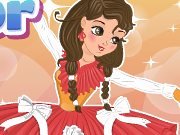 Description: Doll the ballet dancer
This girl loves to dance. Most of all she loves ballet. Today will be her first appearance on the big stage. This is a very important moment for her. She is very good at dancing, but worrying about their dress. As it is better to look to please the audience? Future ballerina wanted it to be the best dress and hairstyle. She looks forward to your help.
How to play:
In this game you will be able to create the best image of a ballerina. She hopes that you have a lot of experience in the selection of dresses, hairstyles, jewelry and other elements of the image of a ballerina. Is not it?
Think up your own doll dancer who can become the best of all. You can change everything in her using only your mouse and your imagination.
Played: 40824. Added: 23-04-2015, 14:38.
Play other games from this developer:
CuteZee.com
. Categories:
Dolls