Beauty Shop: Star Style game
Follow us on Facebook and Youtube: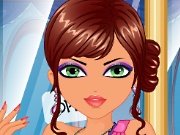 Description: Beauty Shop: Star Style
Care for your body requires certain skills. You need to gain some knowledge before you learn to do it. But if there is no time for you to learn there is always a beauty salon that can help you. Here you will feel yourself as a real star. Brigade of cosmetologists, stylists and makeover artists are capable of real magic. They will surround you with warm atmosphere and take care of the face and body, they will do everything to make you feel irresistible. In our online game for girls you'll be on their site. Become a master of skin-care for the heroine of this game. To do this you need a mouse.
Played: 64008. Added: 22-12-2011, 15:28.. Categories:
Makeover