Rapunzel total makeover game
Follow us on Facebook and Youtube: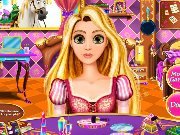 Description: Rapunzel total makeover
Rapunzel is very sad that she overslept and now she has to hurry. This is nothing terrible, but she needs to go to school. Look what she has not clear skin. Let's help the Princess Rapunzel to clean your skin and make light makeup.
How to play:
in this game you will be able to help to do a makeover to the Princess. For this you will need a mouse. Follow the prompts and follow the simple steps to a girl as soon as possible was ready to go to school.