Rebel Hairstyle Makeover game
Follow us on Facebook and Youtube: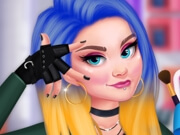 Description: Rebel Hairstyle Makeover
Everyone is used to seeing princesses in fashionable and stylish outfits and also with beautiful hair. In this game, the opposite will be true. Our familiar princesses decided to try a rebellious style in their hair, makeup, and outfits. It will be a shock to many of their friends and especially their fans. How about making a bad girl style for Rapunzel, Anna, and Jasmine? Try making her a rocker with bright blue hair and sassy makeup. Throw in a flamboyant outfit and you should have a new Rapunzel-like you've never seen before. Create looks for each of the girls and enjoy their cool new look.