Rapunzel treats her teeth game
Follow us on Facebook and Youtube: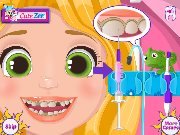 Description: Rapunzel treats her teeth
This glorious and beautiful princess Rapunzel has trouble with her teeth. They hurt. Probably the case is in candy! So she does not eat them anymore, but the toothache hasn't gone. She wants to eat sweets, cakes, pies and drink soda. But the teeth start to hurt even more everytime. It's like they say that it's time to go to the doctor. And so she came to the dentist and he advises her to immediately start to treat them. First, he examines them and decides to do an x-ray research. To do this, you need to click with the mouse at the moment when the runner appears under the pink section. Next, brush princess's teeth, and then begin to treat them. Here it is necessary to be careful. Girl's teeth hurt, and treatment requires close contact with them. What to do? You have to do anesthetic injection! Then you can safely treat рук teeth and do not be afraid of that princess feel pain.
To play you need only the mouse. Follow the prompts that you will find in the game and follow the simple steps and so Princess Rapunzel will be glad your taking care of her teeth. Only now she will not eat a lot of candy and drink sweet water.