Harley Quinn at school game
Follow us on Facebook and Youtube: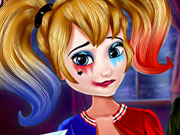 Description: Harley Quinn at school
The holidays are over and it's time to return to school. Harley Quinn is no exception and she should think about the form in which she will come to school. I think she understands that in such a way the director will not let her go and will demand that she change her appearance and become like all the girls at school. Therefore, Harley Quinn needs your helping hand to start learning. First, she needs to wash off all makeup, cleanse the skin and give it a natural color. Then you need to do your hair and remove the red and blue. After that, change your hair and you can start choosing a new image for a beauty. Of course, it is worth considering and choosing clothes. Well, what a girl without jewelry? Create a magnificent image for this colorful villain, who will turn into a nice schoolgirl with the help of you.