Inside Out Make-up Design game
Follow us on Facebook and Youtube: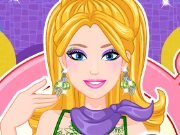 Description: Inside Out Make-up Design
Hello girls! You've seen the movie "Inside Out"? This girl saw him, and she was delighted with him. She decided to make a make-up and choose clothes like cartoon characters. To this end, it has already bought a lot of dresses and ready to do the same hairstyle like in the cartoon. Let us help her to do what she thought, and then we will evaluate the results.
How to play:
In this game you will be able to do makeup, choose a hairstyle and dress for a girl who would like to look in the style of the movie "Inside Out". To do this, use the mouse to control the game.