Ariels Mermaid 101 and Moana becomes a mermaid game
Follow us on Facebook and Youtube: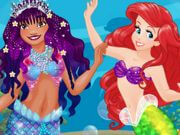 Description: Ariels Mermaid 101 and Moana becomes a mermaid
Unusual maturity can be found on the ocean shore. Ariel and Moana are training to swim together! Moana really wants to learn how to swim quickly, and she also has a dream to become a mermaid. Ariel is happy to help her with this and has prepared an excellent training program for this. See what exercises Moana will do and make sure that this way Moana should succeed! There's even the delight of turning Moana's legs into a tail! Then you can see what cool outfits Moana is now wearing as a mermaid. Help Moana complete her workout routine and create a cool mermaid outfit. At the end of the game, you can save a photo where the new mermaid will be dressed in the outfits of your choice, as well as she will glow with happiness!
Played: 15543. Added: 15-09-2020, 08:21.
Play other games from this developer:
dressupwho.com
. Categories:
Ariel