Bathroom design for Ariel game
Follow us on Facebook and Youtube: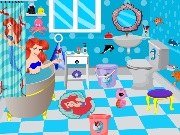 Description: Bathroom design for Ariel
Mermaid Ariel has the best friend Grace, and she is your best friend. Grace is going to leve for school and she would like to see you more often these days with Ariel. After all, she does not want her best friend to be bored while she is absent. In addition, Ariel decided to rearrange the furniture in the bathroom and she will need your help. what do you think about it? You will have to work hard to arrange the furniture in the room. By the way, Ariel has already decided what and where to put everything. You can see a picture with the plan of arrangement of furniture by clicking on the Hint button at the bottom right. Try to do everything as the mermaid planned.
In this game you need to play with the mouse only. Click with the mouse on the right and left arrows to look at objects that can be placed in the room, and if you need one, then click on the object. It will appear in the middle of the room. Then you can move it to the desired location. If you want to remove it from the room, click on the red circle with a cross under the image of the object. You can press Show button to hide all excess stuff and see how your room design and mermaid in it look together.