Doctor Cinderella's daughter game
Follow us on Facebook and Youtube: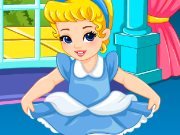 Description: Doctor Cinderella's daughter
Do you know who is this? She is the Cinderella's daughter! She is very cheerful and active girl. One of her favorite things to do is dance. But there was an accident yesterday. The girl fell while dancing and injured his leg. She needs an urgent help because the site of injury hurts and blood appeared! Faster help this girl and take her to the hospital. There she will be provided with professional medical treatmebt using medical instruments. First you need to cut the hose to fully see the wound. Then clean the wound. If the girl cries you can give her a toy. So she will behave calmly and cheerfully. Then lubricate the wound with decontamination liquid and wrap it. You can give the future princess new shoes for her patience. Design and form of the shoes you can choose by yourself. During the game, press the round button SKIP and NEXT at the top of the game screen.
To control the game you will only need a mouse. Press the buttons and performs everything showed in the game.
Played: 42723. Added: 23-04-2015, 13:25.
Play other games from this developer:
PoshDressup.com
. Categories:
Doctor