Lizzie Hearts from Wonderland Dress Up game
Follow us on Facebook and Youtube: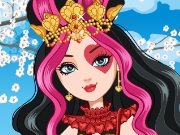 Description: Lizzie Hearts from Wonderland Dress Up
Are you familiar with Lizzie Hearts? She lives in Wonderland. Her mother is the Queen of Hearts. Her mother is pretty wicked and mighty queen. But Lizzie wants to be good and trying to do good deeds. This can be seen even in her appearance. In this game, she wants to choose a nice dress as for the good princess from Ever the after High. What do you think this outfit will look on her?
How to play:
Use Mouse to select sections with clothes and jewelry, choose a background of the game and click on the Show button to see what you chose in this dress up for Lizzie Hearts.