Trixie in Ponyville game
Follow us on Facebook and Youtube: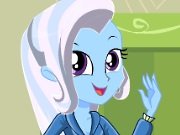 Description: Trixie in Ponyville
Trixie is a traveling pony the magician. She talks about herself in the third person and calls herself a "great and powerful Trixie." Now she is visiting Ponyville to show her skills in magic and surprise everyone with her charm.
To make a good impression, she needs new clothes. She went to a new local clothing store and now she is asking for your help. Please, help her to choose something?