CA Cupid Valentine game
Follow us on Facebook and Youtube: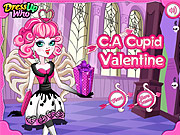 Description: CA Cupid Valentine
This wonderful Valentine's Day is always a special holiday. This game is about C. A. Cupid from ever After high, which is preparing for a significant holiday for her. After all, she has her favorite people and she wants to do for him this evening very pleasant. To do this, she wants to tie a scarf, bake a cake and to choose an outfit for the holiday. It is not an easy task, but don't despair if it can help you?
In this game Valentine's Day Cupid will you help a beautiful girl prepare for the beautiful celebration of love. To do this, use the mouse to help tie a scarf, choose a beautiful dress and makeup, as well as bake delicious cookies.