Snow Bite Draculaura dress up game
Follow us on Facebook and Youtube: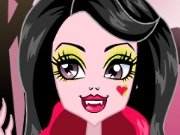 Description: Snow Bite Draculaura dress up
Meet the new witch from the Monsters High! This is Snow Bite Draculaura. She looks a little like Snow White and loves to dress like her. Pick her dress like a fairy tale character has.
How to play:
First, see what clothes are there in the Draculaura's locker room, and then drag them with the mouse on Draculaura. You can think of a few options and choose the best clothes.