An ice-cream game
Follow us on Facebook and Youtube: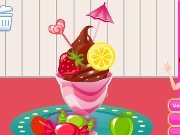 Description: An ice-cream
It is a very hot day and Dennis's girlfriend decided to eat delicious and cold ice-cream. Dennis wants to surprise her and make a special ice-cream, but everything goes wrong. When he tried to make it, he didn't know where to stop and what ingredients to put into the cup. It is very good that you agreed to help him.
How to play:
create the best and the most delicious ice-cream choosing from a huge amount of goodies. At first, choose a cup. Then pick what you want to add among fruits and sweets. Decorate the cup with a straw and a little umbrella. You can add a lemon, an apple or a strawberry. Click on the button "photo" to save the picture where Dennis is giving this sweet dessert to his girlfriend.
Played: 31752. Added: 5-03-2012, 15:37.. Categories:
Decorating