Cake on thanksgiving day game
Follow us on Facebook and Youtube: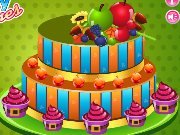 Description: Cake on thanksgiving day
This thanksgiving it is customary to put on the table a beautiful cake. It will decorate the table and all the guests will want to try it. Very well if the cake will be decorated with gifts of nature and all sorts of delicious creams and sweets.
How to play:
in this game girls can create beautiful cake on the table for the holiday thanksgiving. Try to see your guests and create the perfect and most beautiful cake! Use the mouse. Click on round buttons and see what a beautiful and unique cake you've got! Clicking on the number buttons you can select different parts of the cake.
Played: 29052. Added: 18-10-2015, 02:10.. Categories:
Decorating