Caveman against dinosaur game
Follow us on Facebook and Youtube: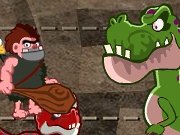 Description: Caveman against dinosaur
Poor dinosaurs! They did not know that not just a dinner but a terrible and dangerous caveman with a club had fallen into their cave. He waves his stick and dinosaurs are not able to cope with him. More over, his favorite bird helps him in this dinosaurs and caveman game. She raises him to get to the flying dinosaurs.
How to play:
wave the stick and clicking the mouse run through the cave using the left and right arrow keys.
Sometimes stones fall on your head. They split up and you can pick up a bonus.Look down that they fall not on your head or you'll lose health.
Played: 35685. Added: 31-01-2012, 18:32.. Categories:
Action