Mermaid - the underwater princess game
Follow us on Facebook and Youtube: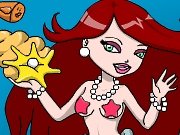 Description: Mermaid - the underwater princess
The character of our wonderful online game for girls is cute princess of distant underwater kingdom Little Mermaid. She lives in peace with all the sea creatures and waiting for her underwater prince. She is the guardian of the sunken boats and ships treasures. Her kingdom is full of mysteries and myths. Give the color to the underwater world of The Little Mermaid.
How to play:
This is the coloring game. Play with your mouse. Paint the picture of the Little Mermaid.Use the palette on the right of the game screen. Click with the mouse on the color you like, and then on the area you want to paint.