Winx: Archery game
Follow us on Facebook and Youtube: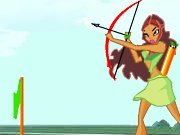 Description: Winx: Archery
Winx girls are very pretty powerful fairies. They must constantly improve their magical skills. Therefore, they are studying at a special school for young fairies. In our wonderful online game for girls you can help the fairy Layla Winx to pass examination in archery.
How to play the game "Club Winx: Archery":
Play with the keyboard. Your task is to shot all the flying balloons with your arrows. To adjust the direction of the shot, use the up and down arrow keys. Press and hold the space bar to adjust the force of the shot. Release the spacebar to shoot a balloon.The number of attempts is limited.
Played: 65655. Added: 11-06-2011, 09:08.. Categories:
Winx