Dress Up Winx girls game
Follow us on Facebook and Youtube: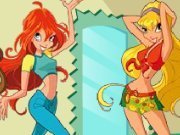 Description: Dress Up Winx girls
Winx Club girls from are waiting for your help again. Help them to choose clothes for shopping. In this fun girl game you need to select clothes for three of the girls, so you will have to work hard here.
How to play: 
When the game is loaded, then you will have to choose one of three Winx girls. By clicking on the favorite you will move to wardrobe. Here is everything you can only think about when choosing clothes! By the way, if you want to select another girl on this stage, then click on their names at the bottom (Stella, Bloom, Flora), she will immediately appear. But the clothes have to be chosen again. To put on something from the closet just click on it and the girl immediately will become dressed. Want a diversity? Click "more" with an right arrow at the top to see what else can be put on the girl. Tip: if you want to dress a girl, then click on "Clear" to start dressing Winx girl again.
Played: 66168. Added: 4-06-2010, 18:56.. Categories:
Winx