Baby Barbie DIY Ombre Nails game
Follow us on Facebook and Youtube: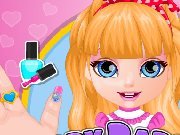 Description: Baby Barbie DIY Ombre Nails
Little Beauty Barbie is going to go to a beauty salon for the first time. She does not know what awaits her there, but she has the best understanding of this. She would like to make your nails beautiful hands and tidier. Let's go out there and try to do the best for the baby's nails image of Barbie.
How to play: In this game you will visit the beauty salon together with a little Barbie. There you can find the best nail polish and jewelry hand girl. After that you go to the store and select the perfect dress for nail design.